De dónde surge la denominación punk
Posted by Roger Nunez-Gamboa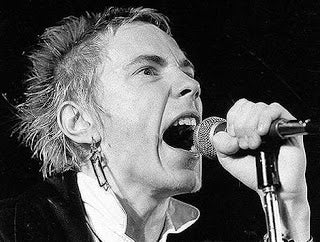 En la navidad del 24 de diciembre del año 1975, salió publicado el primer número de la revista llamada Punk, que luego sería distribuida en los quioscos neoyorkinos en enero de 1976. Este número contenía una entrevista hecha en el mes de noviembre, de ese mismo año, al grupo Los Ramones, desde un concierto en el CBGB de Nueva York (sitio donde debutó esta banda como cuarteto el 16 de agosto de 1974). En este mismo número también entrevistaban a Lou Reed e incluía un artículo sobre Marlon Brando y una entrevista de ficción de Legs McNeil, quien fue uno de sus 3 fundadores. Además, sugirió el nombre para esta revista, con el personaje de comic Sluggo.

Dicha revista fue idea de un joven artista e ilustrador llamado John Holmstrom, quien se inspiró en la música de una banda llamada Dictators, así como en la escena y ambiente del local neoyorkino llamado CBGB (Country-Blue Grass-Blues), quien junto a Ged Dunn Jr. propietario de un negocio de decoración, y el aspirante a cineasta Legs McNeil, la hicieron realidad.

La revista surge en un ambiente para enfrentar a la cultura subterránea setentosa y hippie existente, que se había asimilado y vuelto muy acomodaticia, que le buscaba las 5 patas al gato a cualquier cosa y que había envuelto a sus seguidores en un aire de seres divinos, cultos, virtuosos, filósofos, altaneros y perfeccionistas en extremo, características que se reflejan en casi todo el rock and roll de esta época. Esta situación generó la exclusión de mucha gente y terminó por apartar a los "no aptos" de practicar tales virtudes, además, convirtió el ambiente en algo sumamente aburrido y trajo como consecuencia la repulsión de un sector que buscaba disfrutar de propuestas simples, sin poses rebuscadas y sobre todo realistas. Un sector que buscaba propuestas semejantes a su cotidianidad y vivencias. Esta búsqueda la identificaron los fundadores de la revista Punk en el rock de la banda Dictators, quienes inspirados en su música y letras simples, consideradas bobas por los intelectuales, reflejaron el espíritu de su publicación editorial.

Legs McNeil sugiere el nombre para esta revista, ya que la palabra punk se usaba para calificar o descalificar, de vándalo o malandro, a ciertas personas y sus costumbres. McNeil consideraba que ella resumía en sus cuatro letras la amenaza de todo lo que a ellos les gustaba: la bebida, lo odioso, lo inteligente sin llegar a ser pretensioso, lo absurdo, lo divertido, la jodedera, el humor, lo irónico, lo rebelde, el tabú, lo prohibido, lo irreverente, el inconformismo, las frustraciones, etc., es decir, todo lo que para el establishment era inconveniente y censurable. En las series policiales de los setenta como Kojak, cuando los policías atrapaban al asesino le decían "you dirty punk", que en castellano significa, más o menos, malandro de mierda o sucio hampón. También los profesores utilizaban la palabra punk para referirse a los muchachos o muchachas de malas calificaciones y conductas que generalmente chocaban con el sistema educativo formal, calificándolos como los peores, estos chicos, a la larga, conformaban grupo de amigos con los que se relacionaban a diario. Las razones expuestas con anterioridad llevaron a sus fundadores a aceptar, por unanimidad, el nombre que identificaría a la novedosa publicación editorial.
El nombre de la Revista jugaría un importante papel a la hora de definir un nuevo género dentro del rock and roll, ya que reseñaba a un conjunto de bandas que venían desarrollando y grabando por su cuenta, sin éxito comercial o escasísimo respaldo radial y negados sus aportes musicales por la gran industria disquera, aportes musicales que, por cierto, se movían en los locales y estudios neoyorquinos desde inicios de los años setenta.
Estos grupos, caracterizados por la simpleza, crudeza, despreocupación por las formas y hastío por los moldes "convenientes y virtuosos" al que había sucumbido la música rock de la época, nunca se imaginaron que muy pronto, la mayoría de las discotiendas de la Gran Manzana, adoptarían este calificativo en su catálogo de oferta musical bajo la sección de Punk rock. Todo esto ocurrió a partir del año 1977, a tan solo un año después de la aparición de la revista.

Escrito por: Roger Francisco Nuñez Gamboa, exbaterista de Deskarriados y Director General de deskarriados.site
Este post fue originalmente publicado el 2 de junio del 2011 en el Blog Historia en Internet  es una reproducción íntegra.