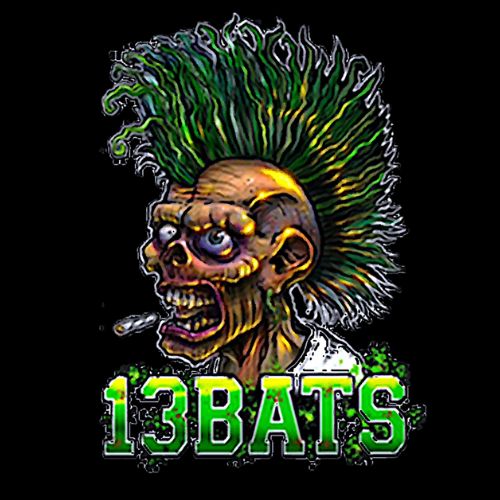 13 Bats Official Merchandise
Introducing 13 Bats Merchandise Store: Where Music Meets Style!
Step into the world of 13 Bats and discover a treasure trove of merchandise that echoes the spirit of this iconic Spanish band. Our store is a sanctuary for fans and music aficionados alike, offering an eclectic range of apparel and accessories that embody the rebellious essence of 13 Bats.
So, what are you waiting for? Dive into the world of 13 Bats and let your passion for music and style collide. Shop now and become part of the 13 Bats revolution!
Listen Now the best of 13 Bats music.
Awesome 13 Bats Mugs
This will probably be the only coffee that doesn't taste like shit to you.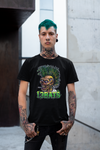 13 Bats Punk Tees
Unleash your inner rebel with our exclusive 13 Bats Tees, designed for those who march to the beat of their own drum. Crafted with passion and infused with the band's electric energy, these tees are more than just clothing – they're a statement.
Our collection boasts a variety of eye-catching designs that pay homage to 13 Bats' unique blend of punk, rockabilly, and sheer unadulterated attitude. Each tee is a canvas of self-expression, giving you the power to make a bold statement wherever you go.
Made with top-quality materials, 13 Bats Tees offer not only style but also comfort and durability. Whether you're headed to a concert, hitting the streets with friends, or simply want to stand out from the crowd, our tees are the perfect choice.
Join the ranks of devoted fans who wear their love for 13 Bats proudly, and let your wardrobe reflect the music that moves you. Don't just wear a tee – wear a symbol of rebellion. Shop 13 Bats Tees today and make your style roar!
Shop Now
13 Bats Wall Clocks
A creative product that should not be missing on the wall of your home or office. Grab your Now!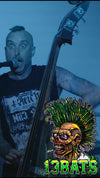 13 Bats: Spain's Pioneers of Punk and Rockabilly Fusion
In the vibrant underground music scene of Madrid, Spain, 13 Bats emerged in 2006, igniting a fire that would blaze through the hearts of music enthusiasts. Their very first self-titled album, released in 2009 under the banner of the local indie powerhouse, Potencial Hardcore, sent shockwaves through the Spanish music landscape. 13 Bats didn't just dabble in genres; they were sonic alchemists, concocting a unique brew of Punk, Rockabilly, Swing, and an eclectic range of influences that defied classification.
The raw energy and magnetic charisma of 13 Bats were undeniable, as evidenced by the rapid sell-out of their debut album's first edition. Fueled by this initial success, they embarked on a DIY tour spanning 25 exhilarating shows across Spain, France, and even the rugged terrain of Scotland.
READ MORE