¡Apoya a la legendaria banda de hardcore y punk rock venezolana 4to Reich en su emocionante gira por Estados Unidos!
Posted by Blogeros Deskarriados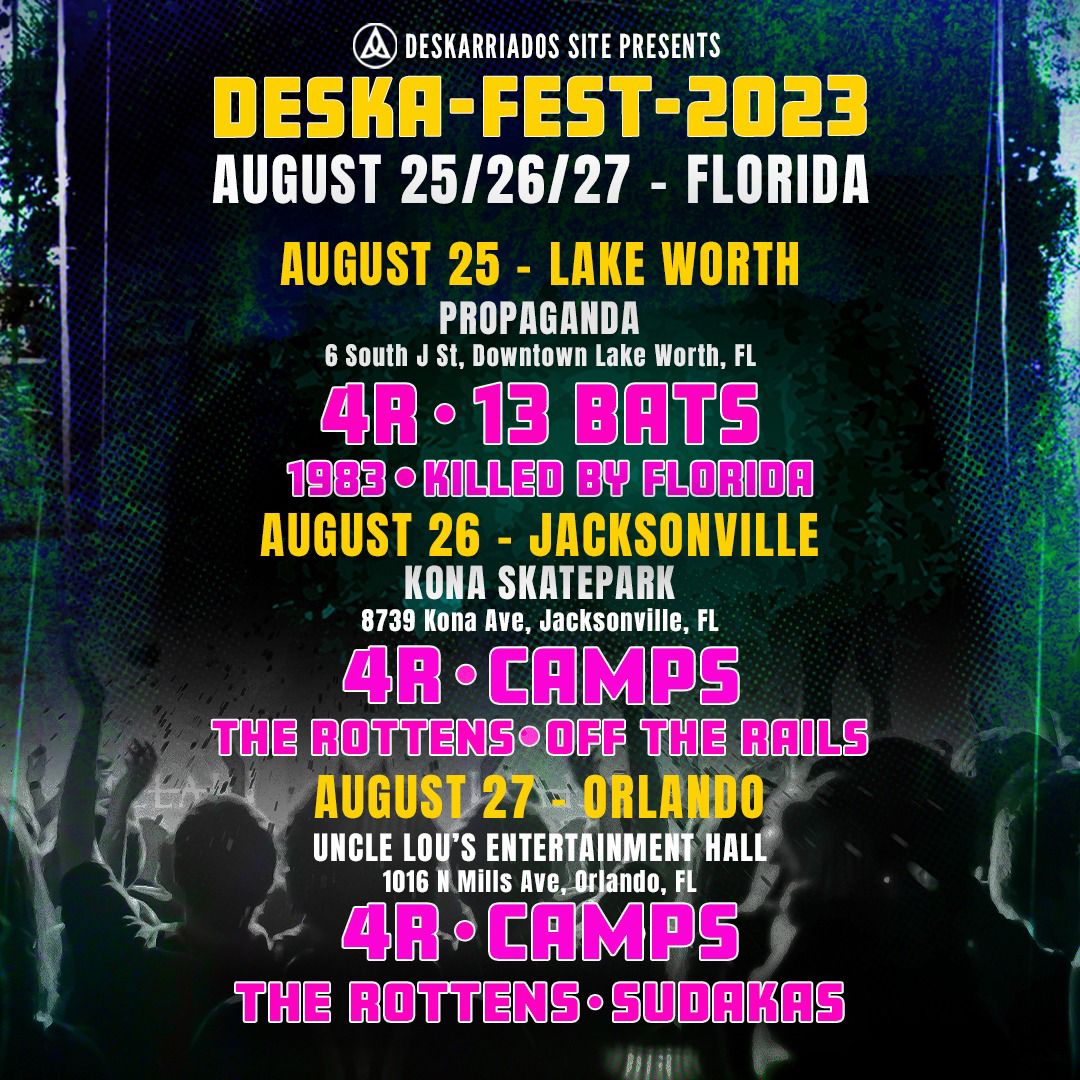 Con motivo de su 40 aniversario, la banda venezolana 4to Reich necesita tu ayuda para financiar dos boletos aéreos desde Caracas hasta Miami, cubriendo así su participación en DESKA Fest 2023, un festival de punk rock y hardcore que se llevará a cabo en Lake Worth, Jacksonville y Orlando.
¡Imagina compartir escenario con bandas locales y dejar una marca imborrable de la movida Punk criolla en los Estados Unidos!
Con más de 40 años de trayectoria, 4to Reich ha dejado una huella imborrable en la escena musical underground venezolana. Iniciando sus andadas junto a bandas como Sentimiento Muerto, Zapato 3 y Desorden Público, quienes se inspiraron en los 4to Reich para dejar de lado la miniteca "Aseo Urbano"  agarrar los instrumentos musicales e iniciar su camino musical de 37 años ininterrumpidos como banda . Los 4R fueron ese combustible necesario para que muchos jóvenes de esa Caracas de los 80 dieran el paso de coger una guitarra, bajo y batería y comenzaran a darle forma a sonidos que fueron disruptivos para la cultura musical de la época.
Ahora 4to Reich necesitan tu apoyo para hacer historia una vez más haciendo su primera Gira Internacional.
Con motivo de su aniversario, 4to Reich va a participar en el DESKA Fest 2023, un festival que se llevará a cabo en tres ciudades de Florida: Lake Worth, Jacksonville y Orlando.
Este evento, que reúne a destacadas bandas de la movida subterránea. Florida es el escenario perfecto para que 4to Reich comparta su música con nuevos públicos y continúe expandiendo su legado.
Para lograrlo, la banda ha lanzado una campaña de recaudación de fondos con el objetivo de obtener $2000. Estos fondos se destinarán a cubrir los gastos necesarios para que dos de sus integrantes puedan viajar desde Caracas hasta Miami y participar en el festival. Además de los boletos aéreos, también se utilizarán para cubrir los costos de comida, combustible y alojamiento durante su estadía en Estados Unidos.
Imagina la emoción de 4to Reich al subir al escenario en cada una de estas tres ciudades, compartiendo su energía y pasión con las bandas locales y el público presente.
En Lake Worth, tendrán el honor de alternar con las bandas 13 Bats de Madrid, así como con las bandas locales Killed By Florida y 1983 Band. En Jacksonville se uniran las bandas Camps, The Rottens y Off The Rails y en Orlando se subirá además de las anteriores, la banda Sudakas.
Será una combinación explosiva de talento y una oportunidad única para presenciar un espectáculo de full punk y hardcore internacional inolvidable.
Ahora es tu momento de formar parte de esta experiencia única. Tu contribución es fundamental para que 4to Reich pueda cumplir su sueño de llevar su música a tierras estadounidenses. Cada donación, por pequeña que sea, desde 1 dolares americano, marca la diferencia y nos acerca un paso más a alcanzar la meta. Y si no puedes hacer una donación de dinero, compartir y difundir en tu grupo de amigos y tus redes sociales será una aportación invaluable. 
¡Únete a esta causa y sé parte de la historia de 4to Reich! Tu apoyo hará posible que esta banda icónica y legendaria de Venezuela continúe dejando su huella en la escena musical subterranea y emocionando a sus audiencias.
Juntos, podemos ayudar a que 4to Reich haga vibrar a Florida con su música y celebrar sus 40 años de legado en grande. ¡No pierdas la oportunidad de formar parte de esta experiencia única y marcar la diferencia!
Para apoyar a 4to Reich, simplemente haz clic en el boton de enlace que encontrarás aqui abajo. Serás redirigido a la plataforma donde está alojada la campaña de recaudación de fondos, donde podrás realizar tu donación de manera segura y sencilla.